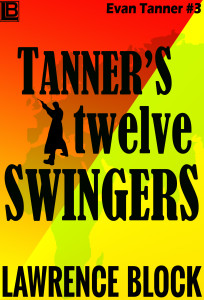 The other day, my Talkwalker alert let me know that the third Evan Tanner novel, Tanner's Twelve Swingers, had been reviewed online. Now it's true that the book, like its seven companions, is very much in print, and has been on offer from one publisher or another more often than not. You'd be hard put to find it in a bookstore, but then it's increasingly hard to find a bookstore in the first place, isn't it? But it's widely available online, as a mass-market paperback or as an ebook.
OTOH, the book made its first appearance on bookstore shelves almost fifty years ago—four or five years before Tommy Hancock, the Australian who reviewed it, made his first appearance on the planet. If realizing as much did not make me feel especially youthful, it damn well made me feel durable. I—and Evan Tanner—have been around a while, haven't we?
Took me back, I must say.
I began writing about Tanner in early 1966, toward the end of my year and a half in Racine, Wisconsin. (My only post-college job, as an editor in the coin supply division of Whitman Publishing. I liked it well enough there, but it cured me of the notion that I could undertake honest work, and I've steered clear of it ever since.) That first book, The Thief Who Couldn't Sleep, was arguably the first book in which I found a voice that was uniquely mine, and it spoiled me; the next book I wrote, The Canceled Czech, was a sequel, and a series was born.

for the rest go here:
http://lawrenceblock.com/staying-up-late-with-evan-tanner/