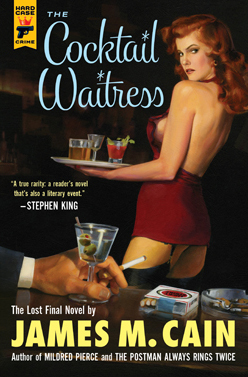 From the New York Times by Michael Connelly
When you strike a match the flame burns blue closest to the source of combustion. For most of his prolific career James M. Cain had the blue flame burning in his explorations of greed, passion and murder. Novels like "Double Indemnity" and "The Postman Always Rings Twice" sizzled with it. And Hollywood always came calling. His work drew the best and brightest talents, and the results were classic. As recently as last year "Mildred Pierce" was produced for the second time in 60-plus years, in an Emmy-winning television run. Cain expertly mined the fine line between desire and lust and the consequences incurred by crossing it. And that skill is timeless, whether on the page or on-screen.
Now along comes the author's "lost" and last novel, "The Cocktail Waitress." While this story of a femme fatale with a gut-turning cosmic comeuppance at the end smolders and burns bright at times, it doesn't quite sustain the blue-hot source of human combustion found in the author's earlier work. It certainly entertains, but it also disappoints.
Cain died in 1977 at age 85, his immense popularity long on the wane. "The Cocktail Waitress" was the manuscript he labored over in his final years. Or perhaps manuscripts is a better description. The published novel was drawn together by the editor Charles Ardai from multiple manuscripts and notes found in places thousands of miles apart. Set in the early 1960s, the story follows the travails of a beautiful young mother, Joan Medford, who finds herself with nothing but the suspicions of police and family when her abusive husband dies in the crash of a borrowed car.

For the rest go here:
http://www.nytimes.com/2012/09/23/books/review/the-cocktail-waitress-by-james-m-cain.html