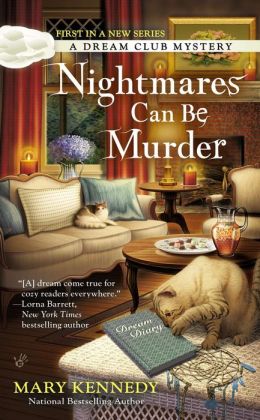 1. Tell us about your current novel/collection.
The release date for NIGHTMARES CAN BE MURDER, the first in the Dream Club Mysteries, is just around the corner. (Sept 2, 2014, Penguin). The series is about a group of Savannah women who form a dream club and meet once a week to analyze their dreams and solve a murder or two. Business consultant Taylor Blake returns to Savannah to help her sister Allison run Oldies But Goodies, a vintage candy store. Ali is the founder of the dream club and brings a reluctant Taylor into the fold. Do the women actually uncover clues in their dreams that help identify the killers, or is it just coincidence? I let the readers decide.

.2. Can you give a sense of what you're working on now? I've already turned in book 2, DREAM A LITTLE SCREAM, of the Dream Club Mysteries and am working hard on book three. No title yet, so it's up for grabs. I'm also working on The Talk Radio Mysteries. In the Talk Radio mysteries, "Dr. Maggie" closes up her Manhattan psychotherapy practice to move to sunny Florida to become a radio psychologist. (and she solves a murder in every book). My agent sold it to Penguin with five words, "Frasier Meets Murder She Wrote." I'm working on book 4 and hope to have it available by the end of the year.

3. What is the greatest pleasure of a writing career? Spending time with my characters (any my 8 cats who are non-readers, but like to hang out with me). And of course I love meeting mystery lovers, both in person and online.

4. What is the greatest DISpleasure? Deadlines, the bane of my existence! (I bet every writer says that.)

5. If you have one piece of advice for the publishing world, what is it? I think of those old world maps that say, "Beyond here, there be dragons." It's a whole new world than when I started writing 25 years ago. Today, writers have to be social-media savvy and weigh the pros and cons of indie publishing.

6. Are there two or three forgotten mystery writers you'd like to see
in print again? Ellery Queen, Dorothy L.Sayers and John Dickson Carr.

7. Tell us about selling your first novel. Most writers never forget
that moment. Well, I have to confess, I never planned on being a novelist and it was all a fluke. No years of rejection slips, no starving in a garret. I did have a background in writing, first as a radio copywriter and then a television news writer. Someone called me and offered me a nice sum of money to write a teen novel for a major New York publishing house. The caveat was that I only had 8 weeks to write it. Could I do it? A no-brainer! It was touch and go as I'd just accepted a job as PR Director for a travel company. But I said yes, kept the PR job and sold 8 books that year. I don't think I slept more than 5 hours a night for that entire year!
Mary Kennedy is a licensed psychologist in private practice on the east coast, where she lives with her husband and eight neurotic cats. The cats have resisted all her attempts to psychoanalyze them but she remains optimistic. You can learn more atwww.marykennedy.net or at the Cozy Chicks where she blogs every Saturday. www.cozychicksblog.com