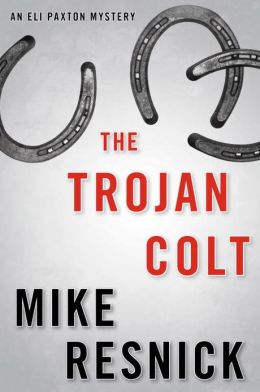 If there's a genre (or even-sub-genre) that Mike Resnick hasn't mastered I'm not aware of it. From science fiction to fantasy to adventure to western to humor to Sherlockiana...and on and on. And I do mean mastered.
Sometimes writers working in unfamiliar genres dash off work that is longer on mere competence than inspiration.
THE TROJAN COLT is such a savvy, exciting, page-turning read you feel you're in the hands of a long-time and much heralded mystery brand name.
In this adventure private eye Eli Paxton is hired to guard a horse whose owner hopes to make big money on at auction. Two grooms have disappeared and Tyrone, the horse, is in danger. But then so, suddenly, is Eli Paxton. Someone hopes to dispose of him as well.
Resnick does a fine, vivid job of making the horse world not only real but fascinating. The same with his cast. In addition to being full realized people they are convincingly portrayed as creatures of stables, jockeys and race tracks.
I'm ready for the next Eli Paxton novel.
----PETER WINKLER
Here's a ink to an excellent interview with writer Peter Winkler.